Hamilton Litestat's new website (designed by NG15) was launched in September 2020. Since its launch, they have seen a significant increase in product sales over the past year. With a focus on delivering an enhanced user experience, an intuitive visual 'product configurator' was implemented to support contractors when specifying projects, enabling easy product sourcing and a 'download function' for their product datasheets.
THE CHALLENGES OF MANUALLY PRODUCING DATASHEETS
Specification of products is a very time-consuming process, especially when there are over 24,000 SKU's to manage. Before using e-Pim, Hamilton created each of their product datasheets manually in a Microsoft Word document and this was just far too time consuming. On average they were able to produce between five and ten datasheets daily, and each request made for a datasheet would be individually sent via email to the client. The whole process was labour intensive, with a large scope for inconsistent information being supplied across multiple departments, including incorrect imagery and diagrams, along with poor design consistency. It was extremely hard to keep track of versioning and updating the datasheets had become troublesome.
THE SOLUTION
Hamilton fully adopted e-Pim into their digital strategy and it now integrates seamlessly with their ERP system. The marketing team are able to manage their product information in one centralised location. They can further enrich data, ETIM classify their data and link digital assets (i.e product images and wiring diagrams). Fully enriched data is then approved for publishing to the website and a digital product datasheet is instantly created, ready for download.
The introduction of the 'product configurator' on their website, means visitors are now able to view and specify a unique plate configuration of their choosing, including plate finish, insert colour and number of gangs. When the desired solution is chosen, the configurator automatically generates a bespoke product datasheet, allowing the specifier or customer to instantly downloaded a PDF – with just a click of a button.
Hamilton's product information and datasheets also adhere to European Technical Information Model (ETIM) standards to deliver globally consistent product technical information. This removes any ambiguity and makes it easier for those working in the Electrical industry and supply chain to specify products.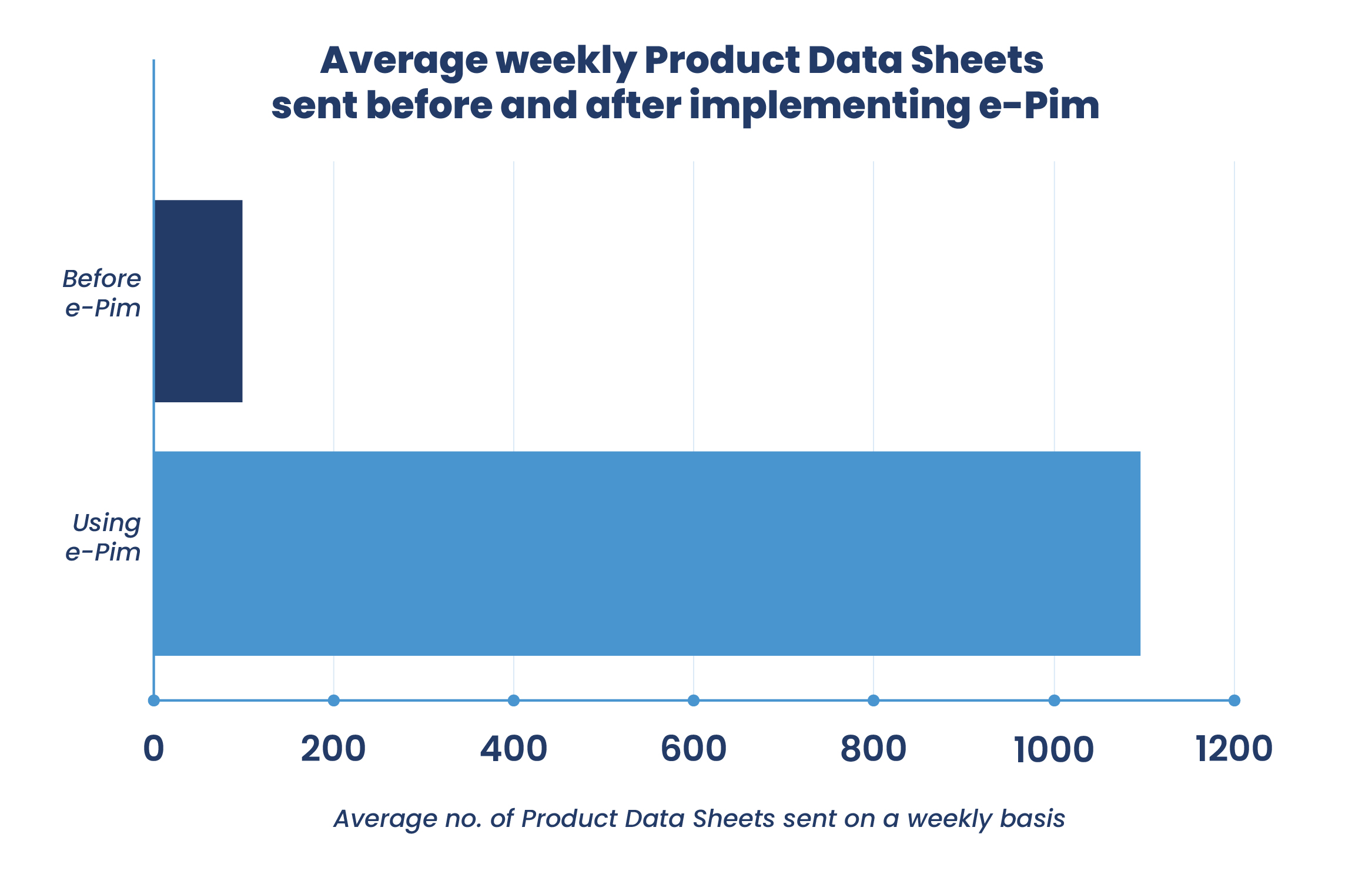 Gavin Williams, Hamilton Sales and Marketing Director commented; "The data sheet features a visual representation of the product that can be shown to end customers to quickly and simply sign-off product choices. When specifying for large projects, multiple datasheets can be saved to a 'Favourites' folder and downloaded upon completion to be inserted in a project proposal.
Our new 'visual product configurator' has been designed to put more power in the hands of the installer – and our customers – to select their preferred design, finish and functionality, making a complicated task much easier. We can now be confident that our product data is always of the highest quality, up-to-date, including the most recent product images, diagrams and ETIM classified data."
Installers and customers now have full, round the clock access to product information via Hamilton's website and instant access to datasheets. Since centralising their product data with e-Pim, Hamilton have seen a huge surge in demand for product datasheets, rising from a weekly average of one hundred requests (dealt with manually vie email) to over one thousand, automatically generated within seconds and supplied in PDF format, suitable for both print and digital without any interruption to the marketing team. No more searching amongst folders, spreadsheets and word documents, across multiple departments for the correct data sheet version.
"Product datasheets are now one less thing for Hamilton to worry about, freeing-up their marketing team to explore other sales opportunities."
For more information on Product Datasheets read here.